"Thank you for all of your hard work. Our yard has never looked better."

— Erin Barr
We Say No To "Mow, Blow and Go"

Blue Sky Landscape Company was founded after we noticed a void in the attention to detail from most of the lawn care industry. Too many lawn care companies send un-trained "laborers" to "mow, blow and go".
4060 Peachtree Rd. • Suite D-580 • Atlanta • Georgia • 30319 • (ph) 404.661.7664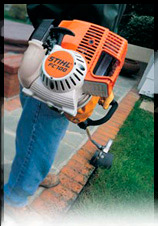 We believe that it's the little details that help a properties' landscape stand out from the rest. Whether it be removing the pinecones and sticks from pine straw beds or spending a few extra minutes to hand prune the tree limbs in the side yard.

Our Crews use only the newest and best equipment available on the market today. We take pride in our equipment. The mowers blades are sharpened weekly, the edger's blades are replaced daily and our trucks are clean before we leave the shop.

You can be assured that when an employee of Blue Sky Landscape Company works on your property they are going to spend the time required to make sure your lawn is in the best shape possible before they load the lawn equipment back into the trailer and leave the site.