4060 Peachtree Rd. ???Suite D-580 ???Atlanta ???Georgia ???30319 ???(ph) 404.661.7664
Are you tired of your duties as a weekend warrior?
Constantly battling weeds and overgrown hedges?

If so, then it's time to let Blue Sky Landscape Company take care of all your lawn care needs. You will be assured a beautiful lawn without the hassle and expense of owning and maintaining your own lawn equipment. More importantly you will have more time to spend with your family and friends while enjoying a pristine yard.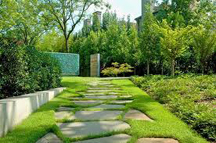 Blue Sky Landscape Company provides homeowners, neighborhood associations and businesses in the Atlanta and Metro Atlanta areas with all of their lawn care and landscape maintenance needs. Our trained professionals pay close attention to all of the little details that take an average yard and transform it into a head turning, eye catching piece of work.


Our lawn care plans include mowing of all grassed areas, edging of driveways, sidewalks, curbs and patios, trimming and pruning all the properties trees and hedges, blowing and debris removal. Our plans indulge you with a lawn that will be the envy of your neighbors or just the thing you need to help keep your office space fully leased.